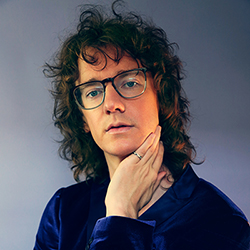 199 Chambers Street New York, NY 10007
Map
Buy Tickets
Sat, Oct 13, 2018 08:00 PM
**SOLD OUT** Best known for his portrayal of suburban alpha mom Gayle Waters-Waters in his hit web series GAYLE, Chris Fleming is a comedian who has appeared on Tosh.0, the Doctors, and has been written about in Forbes, LA Weekly, Huffington Post, Cosmopolitan, and the New Yorker. In 2017 he toured the country with his standup show Showpig, which was featured in the Montreal Just For Laughs Festival. He currently has over 24 million views on his YouTube channel. Chris's widely popular YouTube show GAYLE is a comedic web series chronicling the misadventures of Gayle Waters-Waters, a hypercompetitive, stay-at-home mother, fumbling her way up a self-imposed suburban ladder. In her manic quest for "cul-de-sac cred," she creates chaos and panic in the household at all times and is going to win 'mother of the year,' no matter the cost.
Pre-Sale Tickets Available for Sale starting Wednesday June 27th at 12pm.
Regular Sales begin Friday June 29th at 12pm.
VIP tickets entail priority access to the post-show M&G.