Flights With An Angel. Chagall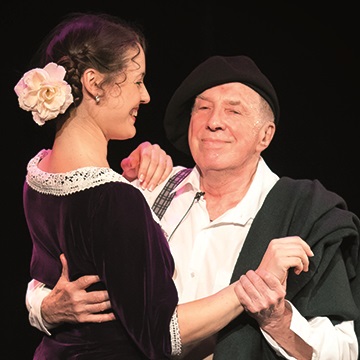 Flights with an Angel. Chagall.
Ermolova Moscow Theater
Directed by Sergey Yurskiy
Play by Zinoviy Sagalov
Producer: Leonid Roberman
Starring Sergei Yurskiy and Natalya Tenyakova
with Anna Garnova, Lyudmila Drebneva, Aleksandr Aronin
The premiere of Moscow's Ermolova Theatre: award-winning Russian artists, outstanding masters of the stage, the theatrical power-couple Sergey Yurskiyy and Natalya Tenyakova star in a new musical play, "Flights with an Angel: Chagall." The life of world-renowned painter Marc Chagall, his works, his travels, and his love - it's a unique story about an artist, told by Sergey Yurskiy. The great stage actor becomes the great painter, and revives everything connected to him: his beautiful muse, Bella, his adored mother, his hometown of Vitebsk and the bohemian Paris, as well as his friends and the subjects of his canvasses.