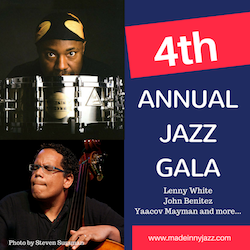 199 Chambers St New York, NY 10007
Map
Buy Tickets
Sat, May 20, 2017 07:30 PM
The Made In New York Jazz Gala is one of the most significant and unique experiences to visit in New York, featuring legendary Jazz Artists performing together with upcoming musicians from multiple locations in the world!
This year we celebrate our 4th Annual, International Jazz Gala.
The lineup 2017:
Multi Grammy Award Winner Lenny White
A versatile drummer, best-known for being part of Chick Corea's Return To Forever in the 1970's. White was self-taught on drums and he largely started his career on top, playing regularly with Jackie McLean (1968) and recording "Bitches Brew" with Miles Davis in 1969.
White was soon working with some of the who's who of jazz including Freddie Hubbard, Joe Henderson, Woody Shaw, Gato Barbieri, Gil Evans, Stanley Clarke and Stan Getz among others. As a member of Return To Forever during 1973-76, White gained a strong reputation as one of the top fusion drummers, but he was always versatile enough to play in many settings.
Multi Grammy Award Winner John Benitez
In the world of Latin Jazz/Latin American music, John Benítez is considered to be one of the greatest bassists alive today. With five GRAMMY awards to his name and performance credits ranging from Tito Puente to Chick Corea, his impact on the music world is unquestionable.
Yaacov Mayman, an art director of the competition (Yaacov has performed and/or recorded with Joe Lovano, Benny Golson, Ray Santiago and others).
Multi Grammy Award Winner Roberto Quintero
It is hard to imagine the world of percussion without the sounds of Roberto Quintero. His loyalty and dedication to the Afro-Caribbean heritage of Venezuela has brought him a total astonishing number of 17 Grammy Awards. His discography includes collaborations with icons of Salsa, Latin Jazz, Pop and Instrumental Music. Roberto's powerful multicultural roots have shared the stage with artists like Céline Dion, Oscar D Leon, Marc Anthony, Paquito D'Rivera, Chucho Valdés, Gonzalo Rubalcaba, David Samuels (Caribbean Jazz Project), Hector Martignon, Franco de Vita, Spanish Harlem Orchestra, Afro Bop Big Band, Diane Schuur, Luisito Quintero and Contrabass Guitarist Virtuoso Juan Garcia-Herreros - just to name a few.