Together for the Holidays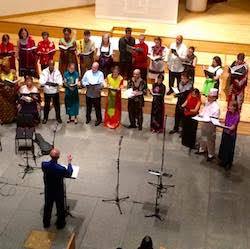 199 Chambers Street New York, NY 10007
Map
Buy Tickets
Fri, Dec 15, 2017 07:00 PM
UNSRC Symphony Orchestra and Singers together for the holidays!
Celebrating 70 years of UN Singers
Friday, December 15 at 7pm; $30, $20
The UNSRC Symphony Orchestra and the UN Singers are community ensembles of the United Nations in New York, with musicians and singers from more than 30 different countries working at the UN or in diplomatic service to the UN.
Showcasing the rich talent of the people who serve the cause of world peace and development, the two ensembles are joining forces in a joyful holiday programme to celebrate the rich diversity and musical heritage of the world with music from different eras and parts of the world. This concert also celebrates the 70th anniversary of the UN Singers.
On the programme:
UNSRC Symphony Orchestra
Predrag Vasić, conductor
UNSRC Singers
Guillermo Vaisman, conductor
Anastasiya Roytman, soprano
Haiming Zhu, tenor
Holiday songs from around the world, in their native languages, and popular works by Copland, Tchaikovsky, Anderson, Handel, Fauré and more.