20th Anniversary 'It Was All a Dream'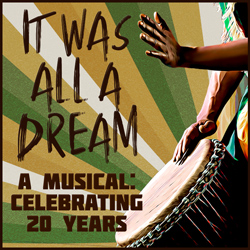 199 Chambers Street New York, NY 10007
Map
Buy Tickets
Sat, Aug 20, 2022 07:00 PM
Celebration of 20 years of Asase Yaa African American Dance Theater presenting our experience of African American Culture in America.
IMPORTANT COVID POLICY - PLEASE READ: *Masks will be required to be worn in the theater at all times. *Government ID and documentation of Covid vaccine will be required: CDC card, photo of card, Excelsior Pass (and Plus). *If you received a Covid-19 vaccination internationally, before purchasing a ticket, email ticketingmanager@tribecapac.org and inform us no later than a week prior to the event, and wait for instructions back (via email). *
For those who are under 5, you must provide proof of a negative Covid PCR test (not a rapid test) within 72 hours of the performance.
*If you are not feeling well on the day of the event, you will not be permitted into the theater. For full details, please see our Covid Policy here -
https://tribecapac.org/covid-policy/
.
Check this page regularly, as rules may change.