Person Place Thing with Randy Cohen-Guest Jack Kleinsinger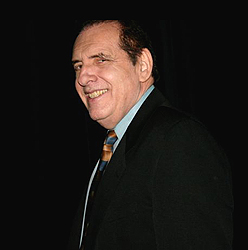 190 West Street New York, NY 10013
Map
Buy Tickets
Fri, Oct 20, 2017 07:00 PM
Host Randy Cohen will be interviewing jazz impresario Jack Kleinsinger.
Jack Kleinsinger recently received an honorary Doctorate of Letters degree from the University of North Florida and is a former Assistant Attorney General of the State of New York. Kleinsinger started producing "Highlights in Jazz" 45 years ago, which is the longest running continuous jazz series in the history of New York City. In addition to "Highlights in Jazz," he has produced many concerts in New York City schools, colleges and prisons; co-produced programs for the Newport and the New York Jazz festivals in the 1980s-1990s; stage managed the Jazz Festival in Nice, France in 1976; and has taught jazz courses at New York University. He also volunteered his services as an instructor at the International Center in New York City. For his work, Jack has been honored with several awards. On June 26, 1997, the JVC Jazz Festival presented a concert entitled "Thanks to Jack Kleinsinger for 25 Years of Highlights in Jazz" at the Sylvia and Danny Kaye Playhouse in New York City; on Feb. 5, 1998, Manhattan Borough President C. Viginia Fields issued a proclamation designating that date Jack Kleinsinger Day in the borough in recognition of Jack's contribution to the cultural life of New York City; on Sept. 6, 1998, Jack received the Charlie Parker Memorial Award at the 52nd Street Americana Festival.
Person Place Thing is an interview show based on this idea: people are particularly engaging when they speak not directly about themselves but about something they care about. Guests talk about one person, one place, and one thing that are important to them. The result? Surprising stories from great speakers. This show is taped and broadcast at a later date on public radio throughout the Northeast (WNYE, 91.5 FM in NYC).
For twelve years Randy Cohen (the host) wrote "The Ethicist," a weekly column for the New York Times Magazine. His first television work was writing for Late Night with David Letterman for which he won three Emmy awards.